"Atomic City" is the third episode from Season 1 of Timeless. It premiered on October 17, 2016.
Plot
Synopsis
The team tracks Flynn to 1962 Las Vegas where they end up on the run with the era's most infamous mistress.
Summary
The Mission
Flynn's Agenda
Flynn attempts to blackmail Judith Campbell into giving him access to the U.S. Army base outside Las Vegas, so that he and his team can steal the plutonium core to an atomic bomb. Were she to refuse to cooperate, Flynn would expose her affair with President John F. Kennedy.
Changes to the Timeline
No changes in the timeline.
Guest Cast
Historical Figures
Episode Notes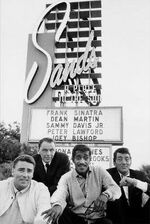 This episode was originally titled "Summit at the Sands", a reference to the Las Vegas hotel that became the unofficial hangout of the "Rat Pack" during the 1960s. The Rat Pack, Frank Sinatra, Sammy Davis, Jr., Dean Martin, Peter Lawford and Joey Bishop, would perform, and party, at the hotel, along with occasional female mascots such as actresses Angie Dickinson and Shirley MacLaine. At the time, Lawford was also President John F. Kennedy's brother-in-law, and would have known Judith Campbell.
Trivia
During the episode, Wyatt and Rufus make comments that refer to the Back to the Future trilogy. Rufus mentions betting on who wins the next 50 World Series games, something that is described in Back to the Future Part 1 and happens in Part 2. Later, Wyatt sends a telegram to his wife just like Doc Brown did in Part 2.
Songs
"Come Fly with Me" by Frank Sinatra (1957)
"Ain't That a Kick in the Head" by Dean Martin (1960)
"Luck Be a Lady" by Frank Sinatra (1963)
Community content is available under
CC-BY-SA
unless otherwise noted.